Here and There in Paris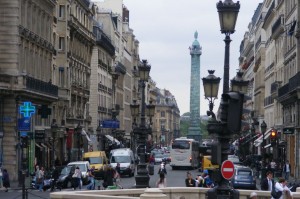 Paris is a lovely city, visited by thousands and dreamed about by millions all over the globe. Some of the most iconic structures lay here, movies are set here, and love is felt throughout. While you will be touring Paris your list will seem endless. While seeing the most famous sites the city has to offer like the Eiffel Tower, the Louvre, and Moulin Rouge, when you want to see what else is here, take a look at these amazing places and experiences.
Musee D'Orsay
For the world's largest and most impressive collections of Impressionist art from Monet, Manet, Gaugin, Van Gogh and more, then this is the museum to spend the day at. All of the masterpieces are housed in a massive old railway station with sky high roofs, cafe and restaurant, and guided tours.
Luxembourg Gardens
Strolling along beautifully manicured lawns, enjoying the sunshine, and taking in the exquisite architecture is a morning well spent here in this garden. Get your jogging shoes on if you want a nice work out, this is a popular place for a few laps. If you have the little one with you, strap them in the city's oldest merry-go-round.There is also a playground for them to burn some energy at.
March Aux Puces de Saint-Ouen
Treasures by the troves can be found here, and you don't always have to spend a million bucks to get it either. This market is 150 years old and just so happens to be the world's largest and most famous flea market. What do you have to lose? You will surely find something to bring home that is a one-of-a-kind little French gem that you will cherish forever.
Rue Des Martyrs
So you're rushing around seeing all the famous  things, but you forget to stop here. Oh what a mistake you have made. This is where some of the best and most authentic shopping and markets can be found. Fresh fruits, pastry shops, fish stalls, chocolatiers, boutiques, and certainly a whole lot of charm will be found on these streets. While it may take more than a day, enjoy everything on the streets, and soak up everything you can while your here.
Seine River
French river cruises in Paris are quite possibly the best way to see the city while not using your feet. Give yourself a break and enjoy the scenery without lifting a finger. Along the Seine river you will enjoy all the sure spots that you can see in greater detail another time. Champs Elysees, Notre Dame, Eiffel Tower, The Louvre, Royal Palace, and more. There's is little that you won't see on an epic river cruise ideal for any holiday in Paris.
Have a Picnic
Paris is an exciting place to visit, but sometimes you just have to sit down and chill out. Finding a nice spot along the river or in a beautiful park is a good way to relax and take in the Parisian air. Grab a bottle of French wine, some of your favorite cheeses, and a fresh baguette, and just blissfully enjoy your surroundings and the delectable simple goodness of this meal in a beautiful area.