Places to Eat in Budapest like a Local
Divided up into two separate cities Buda and Pest depending on what side of the Danube River you fall upon Budapest is large and diverse. Not surprisingly then, there are many different restaurants to choose from. Rather than fall into convenient "touristy" places to eat I'm given some places so you can eat like a local. Suggested by locals this list will help you have a more authentic time while enjoying your time in Hungary. The following list will give you some ideas.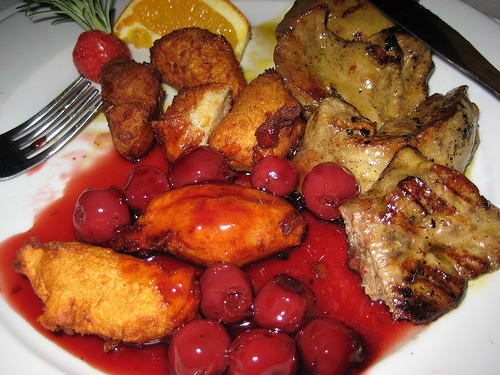 Pozsonyi Kisvendéglő – Radnóti Miklós u. 38
Known for its great atmosphere Pozsonyi Kisvendéglő is known and beloved by the locals. Imagine a simple, friendly and loud Hungarian restaurant. Serving Hungarian foods the portions are large and the price is cheap. The chowder is a dish that is recommended. Service is snappy and your food will be prepared quickly.
Pinczi hús hentesáru – Teréz körút 60
A great place not only to come buy meats, as it is a butcher, but also to grab a tasty cheap meal. Not a choice for vegetarians this place is strictly meat eaters enjoy. Some choices are grilled sausages, frankfurters, grill chicken, and meat-brochettes. Locals fill up a plate and eat with their hands. Follow suit and do the same thing. Trying the Hungarian mustard is recommended.
A 38- Petőfi híd, Budai hídfő
The one spot in town where you can eat a meal, listen to a concert, then party afterwards all while being on a boat. Playing jazz, Balkans music, and electronic all tastes of music are provided for. Get there to eat before 8 as the concerts start then. Partying on the boat commences after 11 usually. A38 is recommended for an amazing atmosphere and a unique experience while in Budapest.
Kis Parázs – Kazinczy utca 7
Kis Parazs is a choice for authentic, unpretentious Thai food in Budapest. Small, cozy with a real Bangkok feel and taste to the food. Thai ladies can be seen cooking in the back preparing the meal you will eat. Locals choose this for its value and authenticity of its meals. Also available for delivery in Pest.
Hummus Bar – Alkotmány utca 20
A new chain of Hummus Bars have opened in Budapest. There are 7 locations around the city. The opposite of Pinza's, the Hummus bars offer healthy vegetarian options. Humus bars offer a variety of options to go with your Humus and pita bread of vegetables and falafel and different meats. Nice prices and definitely a good fuel for exploring this wonderful city further. Hummus bars are located around all of the main tourist's attractions.