Bars to check out in Stockholm Sweden
On a chilly night in Stockholm one of the gems of Scandinavia you might fancy a little drink to keep you warm. Perhaps that leads to another then another and you telling your life story to a friendly Swede then dancing the night away. Such is a good night out in Stockholm, a regal city with aesthetic beauty that still knows how to get down in its bars. Here are a few suggestions for bars to visit in Stockholm.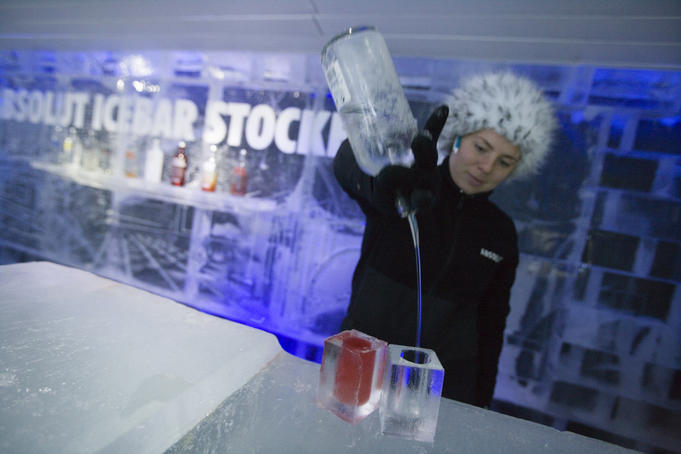 Absolute Ice Bar in Nordic Sea Hotel – Vasaplan 4
An actual bar that is made out of ice – no joke. The tables, chairs, and even glasses are made of ice. Now that isn't the place that you go to party down – as it's very expensive – but it is an interesting experience to have in Sweden.  Entrance to the Ice Bar is around 26 US dollars, but it does give a free drink.
Sodra Bar & Kitchen – Mosebacke Torg 1-3
Situated in bohemian district Sodermalm, this bar and grill is connected to the Sodra Theatre. Though the option is there to enjoy a meal and a show the bar is open to non theatre goers too. The view over Stockton from this location is wonderful. The music in the restaurant is indie an experimental and the drinks well crafted and varied including an extensive cocktail menu.
Sjatte Tunnan – Stora Nygatan 43
An interesting bar where the staff is dressed in medieval costume and you live out a medieval experience. The bar is lit almost entirely by candles and features medieval tunes played by a live band on weekends. The food is delicious with many of the recipes coming from medieval times.
The Liffey – Stora Nygatan 42
Stockholm's Irish bar, we know every country has a few. The Liffey features local Swedish bands and Thursday night stand up comedy in English. Only costing around $7 dollars US, the show is definitely worth checking out. Occasionally big name comedians slip on to the stage unannounced.
Patricia  – Stadsgardskajen 152
Patricia is a club that is on a docked luxury yacht, it has become the ultimate party boat. Actually the yacht was used by Queen Elizabeth as her private Yacht in 1952. In modern times it now features five indoor bars and two deck bars in the summer. The different bars have different themes ranging from house, Swedish pop, to hardcore. The evenings usually start with bands playing around 8 till 11 then DJs finishing off the night till the sun rises. If you are going to go to Patricia be sure to be dressed smart, it is expected by doorman.