Catalan Cuisine
As you can imagine in a country bordered by mountains to the north, the Mediterranean sea to the east and the plains of Aragon to the west, the food in Catalonia is as varied as the landscape. Catalonia's location when combined with the cultural influences of the Romans, Arabs, French, Italian and Spanish make Catalan cuisine one of the most dynamic and exciting of the Iberian Peninsula.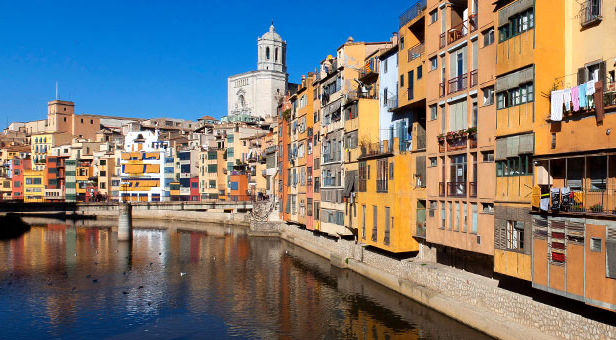 In the province of Girona in northern Catalonia, you'll encounter the most contrasts with both coasts and mountain influencing the cuisine. Along the coast seafood dominates the menu with Anchovies from L'Escala and the famous red prawns of Palamos being perennial favourites. Mar i Muntanya is a typical feature of the regional cuisine, dishes which mix seafood with chicken, rabbit or beef.
In the province of Barcelona you can not only find some of the best restaurants in Catalonia but also excellent cuisine. Escudella is a hearty winter stew heavy on pork, beef and chicken slow cooked with vegetables, garbanzos and pasta. Habas a la Catalana is another very popular dish made from broad beans and the local pork sausage, butifarra.
In Lleida the Pyrenees Mountains influence the local dishes with rabbit, game, snails and lamb being the main ingredients. This region is famous for its embutidos, cold cuts. Every year several festivals are held to celebrate the local cuisine including the Matanza del Porc, butchering of the pig, and the L'Aplec del Cargol, where up to 12 tonnes of snails are eaten.
In Tarragona rice and seafood are the principal ingredients in the regional dishes. Arroz abanda from neighbouring Valencia is one of the most popular dishes made with rice, seafood and served with alloli, garlic mayonnaise.
Wine is a popular accompaniment to any meal and Catalonia is blessed with several excellent wine making regions among them Priorat, Penedes and Emporda. It doesn't matter where you go in Catalonia you will find excellent cuisine featuring the best and freshest local sourced ingredients. If you want to explore it for yourself, book a self catering apartment in Barcelona and discover the wonderful tastes of Catalonia.