Hamlet at Kronborg Castle
"There's something rotten in the State of Denmark."The words of the eternal bard Shakespeare in one of his master pieces: "Hamlet." Each year Hamlet is performed at the plays true location at Kronborg castle in Elsinore, Denmark.  This performance is put on by the United Kingdom's Globe Theatre an acting troop that comes intact with Shakespearian honed actors.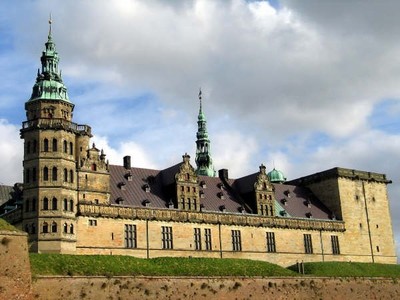 The story of Hamlet appeared for the first time more than 800 years ago in the Saxo Grammaticus' History of Denmark. In 1601 William Shakespeare used these histories to pen the famous play. At that time drama was generally based around action rather than deep characterisation. Shakespeare defied this convention by creating one of the first, and best ever, character studies. Audiences for hundreds of years have voyeuristically watched the young prince Hamlet feign and possibly succumb to madness on the stage before them. At the heart of the play are questions that we all face about truth, identity and duty. These are the quandaries that plaque Hamlet as he comes to grips with the death of his father. This play exists as much a study of the fragmented Danish court within Kronborg castle as a study into the very heart and mind of Hamlet.
Hamlet performed at Kronborg castle brings a unique and special level of authenticity. The castle, majestic in its own right, is the very castle where the play is purported to have taken place. In 1577 Kronborg was renovated into its present renaissance form of red brick and sandstone. Performances of "Hamlet" began in Kronborg castle in 1816 to commemorate the death of Shakespeare. For the last two hundred years Danish audiences have been delighted by numerous performances of this play. Globe theatre director Dominic Dromgoole had the following to say in regards to Shakespeare himself having visited the castle and the importance of performances there."Kronborg Castle would have been very specific and clear in Shakespeare's imagination. Whether he had been there himself or not, he would have heard a lot about it. So in a way, going back to the castle is a sort of completing of the circle."
The intent of the Globe Theatre Company is to return to the style of theatrical production of Shakespeare's time. According to Dominic Dromgoole the troops hope is to portray Hamlet as close to Shakespeare's own vision as possible. Commenting on that further Dromgoole said. "Our approach is modelled on the small scale touring productions 400 years ago that Shakespeare's company took around Europe. It's very direct, it's very portable."
Dromgoole had this to say about his intention with the play: "Instead of saying: what can we do with this play, we try and say: how can we make this play come alive. We try to be as simple and tell the story as clearly as possible." If the opportunity presents itself be sure to see this classic play performed in its real location.