Lovely London: The Right Mix of Tasty Food and Delightful Travel
Suited with comfy clothing and armed with a backpack full of things to bring, a traveller's best friend is not always his journey luggage but a pen and paper and a list of preferred places to visit. While choosing a vacationing spot can be both easy and difficult, finding the right places to visit can be daunting especially if you are planning to visit the busier cities and financially rich capitals like London. So, for the first timers out there or even for the residents, here are two tales of tasty food and delightful travel why London's East End is the perfect vacation spot for you.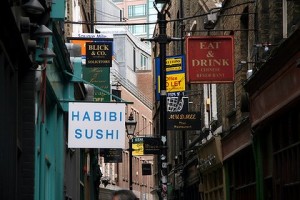 East End: a paradise for those inflicted with wanderlust
Although the financial landmark of Europe is designed with a tapestry of skyscrapers and cityscapes, hidden behind the overt side of town lies a fresh tourist destination for those looking for an alternative scenery. If you enjoy the gritty little historical facts, then you may enjoy your trip in the East End since this was once home to the notorious Jack the Ripper. While you're at the famed district, you may even want to mark your itinerary to the renowned Spitalfields City Farm, which offers a more relaxed atmosphere in contrast to the busier side of the city. And what better way to end the lovely evening in London than by immersing into a hearty meal by one of Shoreditch's classiest yet homey restaurant.
Delightful delicacies at the heart of Shoreditch
After an exhausting trip to the renowned destinations of London's East End, you may want to travel down Hoxton's underground station and save a trip towards 100 Hoxton Restaurant, a mixture of European, Asian, and Middle Eastern cuisine. Considered by most residents as a gourmet's unique paradise, the fresh restaurant is already a known entity in London's culinary industry. In fact, the restaurant is quite popular for its architectural design and even with its palatable delicacies, coupled with an assortment of possible food and drink combinations. You will also find plenty of choices for varying eating lifestyles. There is one specific for the tastes of vegetarians too. And of course, there's always a special set for seafood lovers, especially so that their main chefs are well versed in the cooking expertise of Thai and Mediterranean cuisine. 100 Hoxton is just the perfect place to refill your tummies after a tiring tour around London's picturesque sceneries.