The areas of Manhattan – Uptown and Midtown
Manhattan, like no other place in the world, creates a buzz in people. In such a small island are so many people and so many different lifestyles. So much of what Manhattan is are the districts that make it up and the people that flock to those different parts of New York City. Manhattan Island is at the forefront of the world in terms of trend setting, fashion, and media. There are the areas that encompass it. Manhattan is divided into three districts – uptown, midtown, and downtown.
Uptown
Upper East Side 
The Upper East Side is seen as decidedly posh; still though this area is full of great attractions and sites. The Guggenheim is located on 86th Street stop on subway lines 4,5,6 and the Metropolitan Museum of Art (usually just called the Met ) is just four blocks away from the Guggenheim. North of 96 street is the area known as Spanish Harlem, an area that is noted for citizens like Langston Hughes and Duke Ellington. A suggestion is to take a guided tour through this area during the day. However, be cautious if you visit at night time.
Upper West Side 
The upper west side is often characterised by its elegant residences and architecture. This district also has in it the Lincoln Center, the New York Philharmonic Orchestra, the New York Ballet, and the Lincoln Center. Yes, this area has just a little bit of culture. Not forgetting to throw in a bit of the intellectual with Columbia University North West corner in an area called Morningside Heights.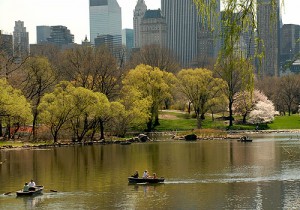 Central Park
One of the worlds' most well known parks central park is one of the hubs of New York City. A site for many different concerts and out door activities Central Park provides a needed relief for the citizens of the city from the constant hustle and bustle. A really beautiful and popular spots in the park is Bethesda Terrace which overlooks over Central Park Lake. Also find the obelisk, which has a duplicate in London, as a point of interest.
Midtown 
With many of New York's great sites tourist always clamour to the glitz and glamour of mid town. Mid town is the home of iconic New York landmarks like the Rockefeller Center, the Empire State Building, Grand Central Station, the Chrysler Building, Bryant Park and Times Square. Time Square, the crowd drawing spot always well known for its big screens and frantic activity can be reached from the Times Square Stop on lines 1,2,3 and 7 on the subway. Midtown also has the theater district, high end shopping along Fifth Avenue, the wonderful music of Carnegie hall, and the Museum of Modern Art.